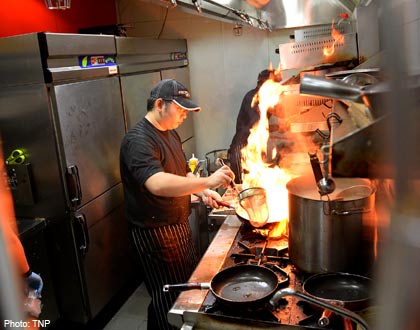 Getting and keeping Singaporean workers has never been a problem since he started his business six years ago. In contrast, many businesses say they have staffing problems and are unhappy about tighter foreign worker hiring policies.
In a Facebook post that has gone viral since Sunday, Mr Benny Se Teo, 52, the founder and director of Western food restaurant Eighteen Chefs, said in a closed-door dialogue session with other restaurant bosses that he is the only one not affected by the policy changes.
It was announced in Parliament in February that the dependency ratio ceiling – the maximum ratio of foreign staff in a firm's total workforce – will be cut to 40 per cent from 45 per cent.
Companies have until July 2015 to comply with the new policy.
For instance, a company with 20 full-time Singaporeans and 16 foreigners will have to reduce the number of foreigners to 13.
In his post, Mr Se Teo said he planned a career path for his workers, paid them "competitive" salaries and went "all out" for them.
Workers at Eighteen Chefs work eight-hour shifts. Anything beyond that is considered overtime, in which they are paid 1½ times more.
Trainees with no experience are paid $1,200 a month and there would be a $100 to $300 increase after a three-month probation, Mr Se Teo told The New Paper.
There is a $100 allowance for employees who are punctual and have never taken medical leave.
Experienced employees are paid $1,600 to $2,500 a month, he said.
His post has garnered more than 1,600 shares and 4,600 likes as of Tuesday.
Mr Se Teo said that part of the reason he is confident he won't face a staff crunch is that he makes it a point to hire ex-convicts.
It has an outlet at Tiong Bahru Plaza, and will be opening another at Orchard Cineleisure next week.
The reason behind it is one that is close to his heart.
Said Mr Se Teo: "I am an ex-convict. In the past, I wanted to be a better person, but nobody trusted me. So I am very grateful when someone gave me the opportunity to succeed in this line."
He wants to do the same for other ex-convicts.
At least 36 per cent of his employees are ex-convicts, he said. Most got the job through walk-in interviews.
Regular visits to prison
Mr Se Teo discovered some of them from his operations team's regular visits to prison.
Last week, another six more potential employees – three men and three women – were discovered during the prison visit.
Employees like Gurwinder Singh are thankful for the second chance given to them.
The 17-year-old was from the Boys' Home and was "bumming around" until he got a job at Eighteen Chefs.
"Benny really takes care of his staff. He wants the best for us, if possible. I'm loving it here," said the playmaker at the restaurant.
A playmaker basically rotates among serving, making simple salads and drinks, and doing kitchen chores.
But some businesses are still hesitant about hiring ex-convicts because they may be problematic, said Mr Se Teo.
He said he has had unpleasant experiences with his employees.
"I did face problems. Over the past six years, two stole money and one broke into the restaurant," he said.
But that didn't shake his faith in his employees.
"I would have to give them the benefit of the doubt," he said.
Mr Se Teo added: "I think they are better than normal people. They value something called loyalty. They will fight for you till their last drop of blood.
"My message is very clear. There is a pool of resources out there. Try to tap (into) them."
Source: The New Paper