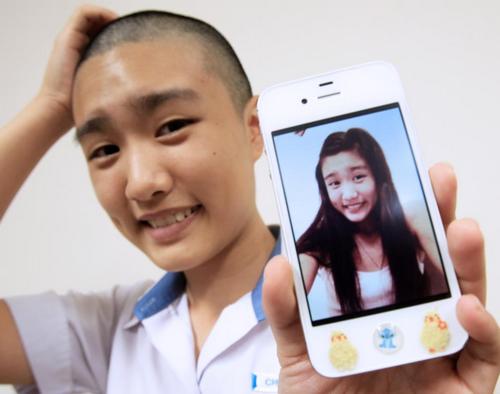 Holy Innocents' High School student Guan Minhui, 16, shaved her waist-length hair for the Hair for Hope fund-raiser last weekend, raising more than $1,000 for charity.
The event was organised by the Children's Cancer Foundation (CCF), to create awareness about children's cancer and to raise funds for the CCF.
Shin Min Daily News reported that Guan's story has garnered more than 1,000 likes on their Facebook page, with netizens praising her for her charitable act.
Netizens described her as a "beautiful girl, with an even more beautiful heart".
Guan revealed that after her hair was shorn off, a man had come up to her and offered to buy her locks for $60.
She accepted the offer and donated the amount to the charity.
Asked how she felt about losing her long flowing tresses, the pretty teenager laughed and said she felt "lighter".
About 25 students and teachers from Holy Innocents' High School took part in the event to raise funds for the CCF.
The principal for the school, Mrs Su Li Ling, said she was surprised and "touched" by the number of staff and students who volunteered to do their part for the charity.
An amused Mrs Su said some earnest students even checked with her regarding the school rules and whether it allowed female students to shave their heads.
This article was first published in Asiaone