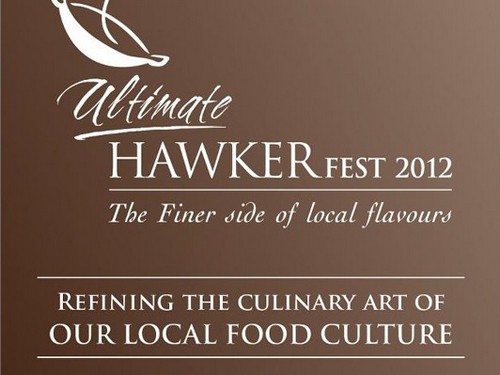 Hawker food is known for being affordable and good. But what if familiar dishes such as satay, chicken rice and bak kut teh were to go very high-end?
The result would be halal wagyu beef satay and bak kut teh broth made with premium pork ribs and Iberico pork belly.
These are just two of the more than 20 special hawker dishes people can tuck into at a charity event on Oct 20.
A group of Singapore's most well- known hawkers will be coming together to cook and raise money for non-profit welfare organisation Touch Community Services. It offers crisis relief and community services to children from low- income families, the elderly and those with special needs, among others.
Instead of offering their already delicious hawker fare done the usual way, the organisers are challenging hawkers to take things up a notch, by cooking with high-end ingredients usually found in top restaurants.
Participating hawkers include Tian Tian Chicken Rice, Hock Lam Beef, Song Fa Bak Kut Teh and Geylang Lorong 29 Fried Hokkien Mee.
Aside from wagyu beef and Iberico pork, hawkers will cook with ingredients such as chickens that are free of antibiotics or hormones, and premium seafood such as abalone, fish maw and lobster.
Dubbed the Ultimate Hawker Fest, it takes place in the open-air atrium and carpark area outside Millenia Walk from 5 to 10pm, and is jointly organised by the charity and general practitioner and food blogger, Dr Leslie Tay of ieatishootipost.sg.
Singapore hawker food is known the world over for being delicious and accessible to all, from blue-collared workers to chief executives. Yet the event seems to fly in the face of the spirit of street fare, which puts the common man on equal ground with epicureans with deeper pockets.
Asked why posh ingredients are being used to prepare Singapore street food at the event, Dr Tay, 43, says: "Why is it we are able to pay $15 for ramen, but we are not happy to pay the same amount for a very good bowl of beef noodles or $20 for chicken rice using the best chicken?
"The only way we can raise our food culture is to show that our food can be even better, using better ingredients. It is about showcasing the potential of what our hawker food can become."
Given that premium produce is readily available here, he says the idea is to give hawkers an opportunity to experiment with these ingredients and explore the potential of their dishes.
He adds: "We wanted to do something more interesting (than a golf tournament or gala dinner) and, at the same time, celebrate local heritage. Hawker food is so much a part of our culture, it is something we are very proud of."
Other dishes include Iberico pork belly satay by City Satay; Fatty Cheong's honeyed char siew made with American pork jowl; popiah with lobster by Kway Guan Huat Joo Chiat Original Popiah & Kueh Pie Tee; and murtabak filled with either tandoori chicken or lamb kebabs and portobello mushroom by The Prata Place.
Dishes cost between $10 and $25 a portion. The organisers hope to raise $150,000 and attract about 3,500 people to the five-hour event, where most of the ingredients are sponsored.
Sponsors include food supplier Angliss, which is providing items such as the premium pork ribs and Iberico pork belly, and food and beverage catering and equipment supplies firm Steward's Solutions, which is supporting the event with everything from cutlery to seating and mobile kitchens.
Despite the higher prices, diners are keen to find out how the premium hawker fare will turn out. Besides, the proceeds go to a charitable cause.
Well-known foodie Dennis Wee, 59, chairman of real estate agency Dennis Wee Group, thinks it could be a boon for lovers of local street food.
He says: "Hawkers normally use cheaper quality ingredients, but if better ingredients are being used and I have to pay $10 instead, why not?"
ULTIMATE HAWKER FEST
Where: Millenia Walk
When: Oct 20, 5 to 10pm
Admission: Coupons, which come in sheets of $50, can be bought at the Millenia Walk Service Desk on level 1, or go to www.touch.org.sg/UltimateHawkerFest2012. Coupons can also be bought on the day itself
Source: The Straits Times