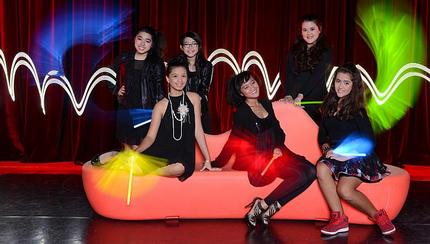 From big corporates such as banks to smaller local enterprises such as BMC Music Centre, a range of partners and sponsors are chipping in for this year's ChildAid concert.
The result is a charity concert held at a world-class venue, yet without an out-of-the- world price tag.
The eighth edition of the event, which showcases local and regional young musical talents, will be staged at the Marina Bay Sands (MBS) Grand Theater where Broadway musicals such as Wicked have played.
MBS, the official venue partner for ChildAid this year and the next two years, said ChildAid was a perfect fit with its corporate social responsibility focus on youth and education.
The annual event raises funds for two causes: The Straits Times School Pocket Money Fund which helps children from low-income families with their school-related expenses; and The Business Times Budding Artists Fund, a programme under The Old Parliament House and which gives an arts education to underprivileged but artistically gifted kids.
MBS president and chief executive officer George Tanasijevich, 51, said: "We look forward to offering over 200 young performers a stage at Marina Bay Sands to showcase their talent and we hope that this experience will inspire all young people to fulfil their potential and pursue their dreams."
The venue's theatre operations team will support the concert and it will also provide meals for ChildAid performers, backstage crew and volunteers over six days, including four set-up and rehearsal days at the venue and two show days.
Giving financial muscle to this year's ChildAid are main sponsors, banks Citi Singapore and HSBC. They each donated more than $600,000.
The banks have supported ChildAid since the event debuted in 2005 and both have ramped up their donations and their employees' involvement over the years.
Citi, for instance, organises fund-raising golf tournaments for ChildAid. It also gets employees to pay 20 cents for each cup of coffee, tea or soft drink from drink dispensers in its offices. Half of the money collected defrays the cost of the company-subsidised drinks, while the other half goes to ChildAid.
Mr Adam Rahman, 50, managing director and head of corporate affairs, Citi Singapore, said ChildAid was a worthy cause, adding: "Fund- raising initiatives are also great team-bonding activities for our staff as they come together as organisers, participants and supporters to give back to the community."
HSBC has also held events to raise funds for ChildAid, including its HSBC Youth Excellence Awards concerts.
Said Mr Alex Hungate, 46, HSBC group general manager and CEO: "Some of our youth programmes aim to provide education for the needy or disadvantaged and the other aim is to nurture exceptional talent. From the very beginning of ChildAid, we recognised that it could bring together both of these objectives."
At least three groups are chipping in to support ChildAid on the music front.
Steinway Gallery is providing three grand pianos – two on loan for the show this year and the next two years, another provided at a subsidised rate for a fund-raising project and the show.
As part of the partnership, three contestants from the Southeast Asia Steinway Youth Piano Competition regional finals will guest-perform at ChildAid.
The Yong Siew Toh Conservatory of Music is loaning music stands and stools to be used by the 70-strong orchestra accompanying ChildAid performers.
BMC Music Centre, a local business, will provide instruments and equipment such as drum sets, amplifiers and keyboards.
It is among home-grown companies that are providing their equipment or services to ChildAid at no cost or reduced cost.
For the show's Electric Edition theme this year, production and gear company The Show Company will be providing, among other things, LED screens for the stage set.
The firm has been involved in events such as National Day Parades and ZoukOut.
Said founder Joseph Sim, 50: "The company is doing well and we feel that we should give back some goodwill to the society."
Highlight Systems will be bringing in more lighting equipment for the show.
Cosmoprof Academy, which has done make-up for performers in this year's National Day Parade and Chingay, will deploy a team of make-up artists and hairstylists.
Managing the concert is a team from events firm Orangedot Productions.
Nanyang Polytechnic is providing about 40 student volunteers whose roles will range from chaperoning the performers to helping out with the front of house.
NYP lecturer Winnie Quek, 34, from the School of Business Management, said the students, most of whom are taking an events management and roadshow module, would gain hands-on experience while being part of a meaningful project.
Year 2 student Teo Shi Jia, 18, said: "The performers showcase their talent and we are helping to put on this platform for them. It's like a team effort."
The ChildAid concert will be held on Dec 7 and 8 at Marina Bay Sands' Grand Theater. Ticket prices will be announced when sales start next month.
For more information, go to www.facebook.com/ChildAid.
This article was first published in The Straits Times