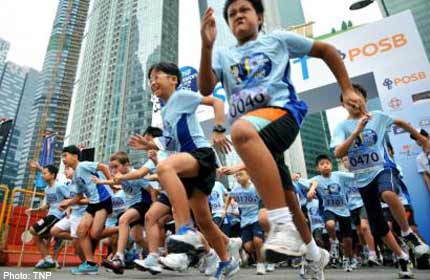 The POSB PAssion Run for Kids will be held on September 8 this year.
Jointly-organised by the People's Association (PA) and POSB, the 'POSB PAssion Run for Kids' is aimed at bringing families together.
The POSB PAssion Run for Kids 2013 will take place at the Marina Promontory on September 8.
The run is part of the bank's $10 million investment over a period of three years to bring people to Marina Bay.
This year, the run is expected to draw more than 10,000 people to the bay and raise over $1 million for the POSB PAssion Kids Fund.
The POSB PAssion Kids Fund has benefitted over 23 projects and 8,500 children so far. It supports community programmes that benefit children and encourage the young to be more socially conscious.
Jasmine Kwok, Director of the Membership and Community Partnership Division at PA said: "The fund supports programmes that equip children with life and community skills that will ultimately help them become active contributors to society".
Derrick Goh, Head of POSB, said: "Through initiatives such as the POSB PAssion Run for Kids Instagram contest, we continue to engage our young and support them on their journey to become active contributors to the community."
"Through the POSB PAssion Run for Kids, we seek to build a stronger sense of community and to create opportunities for families and friends to contribute towards a worthy cause," he added.
As part of this year's run, an Instagram contest was also launched to encourage Singaporeans to share photos which show what growing up in Singapore means to them.
Those who wished to participate in the POSB PAssion Run for Kids Instagram contest only needed to submit a photo via Instagram and hashtag #posbpassionrun. Three photos will be selected to receive a $20 Takashimaya voucher and a limited edition POSB Smiley plush toy every week.
More information can be found on www.posb.com.sg/runforkids.