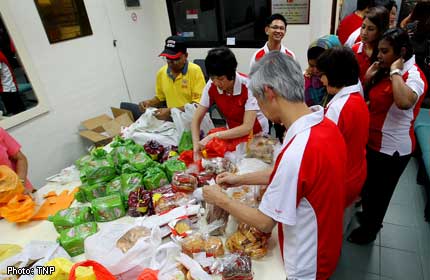 The charity Food From The Heart started in 2003, with 120 volunteers distributing unsold bread to more than 1,000 beneficiaries in welfare homes.
Fast forward to today.
Things are very different now. Over 8,000 volunteers distribute 28,000kg of bread and pastries (valued at S$200,000) each month. More than 14,000 people have benefited.
Food From The Heart, in partnership with various grassroots organisations, also runs 26 self-collection centres across Singapore.
Most of the food distributed are non-perishable items donated by companies and schools.
If supplies run low, the charity dips into an account which is used only for food purchasing, said Food From The Heart's executive director Anson Quek.
To get a taste of what the volunteers do, The New Paper reporter Koh Hui Theng followed a bread route last week.
3am
Chefs at luxury hotel Grand Hyatt Singapore at Scotts Road start their shift.
Over 15 types of freshly-baked bread and pastries are prepared for the breakfast buffet.
10.30am – 11am
Breakfast period ends. Pastry chef Andy Foo or a colleague packs the cakes, croissants and surplus items for collection.
Grand Hyatt Singapore was the first hotel to partner with Food From the Heart in 2004. About 30 staff members take part in the hotel's various community initiatives.
Calling the tie-up a logical step, 39-year-old hotel manager Olivier Lenoir said: "The uneaten pastries won't be sold after breakfast finishes, so we thought 'let's do something about it'."
While the amount of food prepared depends on the hotel's occupancy rate, excess is inevitable.
Said Mr Lenoir: "We do take steps to minimise wastage. But taking the buffet as an example, it's important to have various food items on display. That's why there are always leftovers."
For Mr Foo, 56, satisfaction comes from lending a hand. A volunteer since 2003, he told TNP: "I'm happy to do a good deed. The feeling of helping the needy in society is always good."
After 12pm
Food From The Heart volunteer Lille Tien, 45, received more than 100 baked treats that day.
Keen to help after seeing a newspaper report, she called the charity and has been volunteering since 2010.
Ms Tien, a sales administrator, recalled her maiden effort: "I went (to the hotels) empty-handed and was taken by surprise at the quantity of food donated.
"The stewards had to cart the items to my car. In the end, I made two trips to unload all the food."
Since then, Ms Tien, has been running the Ritz-Carlton and Swissotel The Stamford route weekly and has invested in a foldable trolley to lighten her load. She also takes over if a volunteer is unavailable.
6.30pm
Volunteers, including up to 20 SIA Engineering Company (SIAEC) staff, arrive at the Balam self-collection centre in MacPherson.
They divide into different groups. Those at the "bread station" unpack pastries, then place them into plastic bags. Contents vary according to the beneficiary's household size, said admin executive Irene Ho.
Other volunteers pack non-perishable food items collected by the self-collection centre into goodie bags and lay out 5kg bags of rice.
7.30pm
Needy families receiving financial assistance queue for the monthly distribution. The Balam self-collection centre buzzes as Malay, Mandarin and dialect banter is tossed about.
7.50pm
Primary Four pupil Stella Chew, 9, visits the wheelchair-bound Mr Yeo Siew Kim, 73, who lives a few blocks away from the self-collection centre.
She is accompanied by telco manager Ong Ai Kiow, SIAEC's workshop engineer Junie Chua and planning executive Mustafa Yassin.
Stella volunteered after hearing her pilot-father Spencer Chew, 45, talk about packing bread for the needy.
"I followed him because I thought it will be fun to help other people," she said. "But I don't tell my friends what I do, in case they tease me."
8pm
Former cabby Mr Yeo welcomes the group. He has diabetes and his left leg was amputated below the knee two years ago.
"I used to visit the centre with my wife but I can't do that any more," he said, pointing at his leg. "I can stand but it hurts when I try to walk (on the prosthetic limb)."
His wife died a few months ago. Since then, Mr Yeo has been living on his own in the two-room flat.
"I enjoy the bread and cakes they give me," he added. "No preference lah. Given my situation, I'm happy with whatever I can have."
When asked how he deals with boredom, Mr Yeo laughed: "I listen to Buddhist scriptures on the radio and each day passes like that.
"I'm okay."
8.30pm
Eighty families benefited that day.
"To support one distribution centre, the volunteers will collect food from at least a dozen hotels and bakeries to even out the fluctuations, as the amount of unsold bread varies daily," said Food From The Heart's Mr Quek.
This article was first published in The New Paper