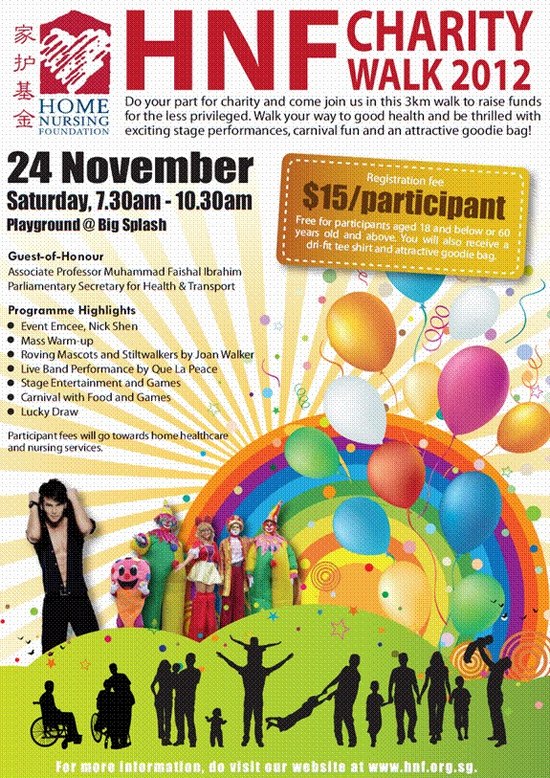 Since 2009, HNF has been organising the HNF Charity Walk as one of their signature fund-raising events.
The objectives of the Charity Walk 2012 are threefold:
(i) Fund-raising for the less privileged patients under HFN care;
(ii) Raising awareness of the home healthcare services provided by HNF; and
(iii) Encouraging the community to help families and patients who are cared for at home.
This year, the Charity Walk will be held on Saturday, 24 November at the Playground @ Big Splash, East Coast Park.
HFN would like to encourage you and your family & friends to join us in this 3-km walk to promote community and family bonding and to participate in a meaningful outdoor activity.
Do your part for charity – walk your way to good health and be thrilled with exciting stage performances, carnival fun and an attractive goodie bag!
Here are the details:
Date: Saturday, 24 November 2012
Time: 7.30am – 10.30am
Venue: Playground @ Big Splash
Fees: $15.00 per participant
(Free for participants aged 18 and below or 60 years old & above. Participant fees will go towards healthcare and nursing services.)
For more information, please visit Home Nursing Foundation website at www.hnf.org.sg or call us at 6854 5505 / 507.