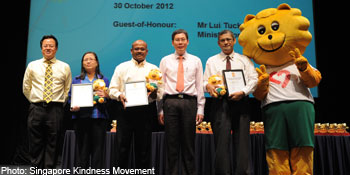 In a record-breaking ceremony held earlier today, 405 staff from 13 transport companies and 2 associations received the National Kindness Award – Transport Gold 2012.
This year's awards also saw the highest number of recipients nominated by the public in the Award's history.
Given to frontline staff and drivers who go out of their way to help others, the National Kindness Award – Transport Gold seeks to encourage higher standards of service quality in the public transport service.
From the 405 that were honoured, 3 outstanding professionals were chosen to receive the 'Kindness Champion' awards for their achievements.
They are Mr Thomas Charles, 58, a taxi driver from ComfortDelGro Taxi Business, Mr Abdul Aziz bin Kassim, 55, a taxi driver from SMRT Taxis Ltd and Ms Wong Siow Yong Helen, 55, a Customer Service Officer from Transit Link Pte Ltd.
Mr Thomas Charles went beyond the call of duty by helping an old lady who fell from her wheelchair on a rainy morning, despite having a passenger in his cab.
He sought permission from the passenger to stop his cab and got out to help the old lady whose wheelchair was trapped in the drain along the driveway.
Upon helping the old lady to safety, he then returned to his cab and reset the meter, ensuring that the extra costs that were incurred were not borne by his passenger. His passenger later wrote in to ComfortDelGro to commend him.
SMRT cabby Abdul Aziz Bin Kassim did something similar when he sent a tourist who had fallen and injured her foot to the nearest hospital.
He helped her onto the wheelchair and later declined to accept the metered fare. At the age of 55, Abdul Aziz has also shown great interest in upgrading driving skills by enrolling in many service-oriented courses to improve service delivery to his customers.
Ms Wong Siow Yong Helen has been working as a Customer Service Officer with Transit-Link for almost two decades now. In December last year, she went beyond the call of service by travelling to the commuter's house after office hours to retrieve the necessary documents required for the replacement of the commuter's daughter's concession card.
"Ms Wong understood the despair that the commuter faced as the latter was leaving for the Philippines for a family vacation the next day and was afraid that her daughter would not have a concession card to use after their trip," said a spokesperson representing the Singapore Kindness movement.
Also present at the awards was Minister of Transport Mr Lui Tuck Yew who praised the 3 kindness champions.
"They inspire their colleagues and their customers through their acts of kindness and commitment to service," he said.
Established in 1999, the award is collaboration with the Land Transport Authority, Traffic Police and 13 public transport companies.
For the first time, 2 new transport associations, Singapore School and Private Hire Bus Owners' Association and Singapore School Transport Association, were also included.
The Transport Gold Award has seen a year-on-year increase in the number of recipients, and organisers attribute it to a conscious effort by the sector's service staff to ensure that commuters enjoy a better experience.
"It is very heartening to see kindness manifested in different ways on our public transport. Transport service staff play important roles in ensuring the travelling experience of the commuters are pleasant.
"In time to come, I am confident that Singapore will be well on her way to becoming a kinder and more gracious society", said Dr William Wan, General Secretary of the SKM.
The National Kindness Award – Transport Gold 2012 has recognised more than 2,448 public transport service stars since its inception in 1999.
Source: Asiaone