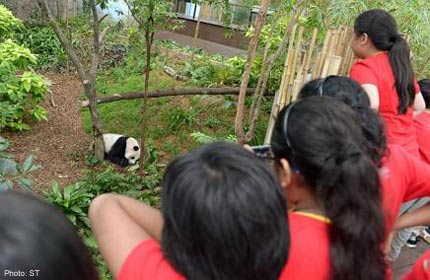 Pandas Kai Kai and Jia Jia have been roped in to boost a fund-raising effort. Property giant CapitaLand has started a Because iCare – Kai Kai and Jia Jia Charity Drive to support the President's Challenge 2012.
President Tony Tan Keng Yam was the guest of honour at the launch of the initiative at the Singapore Zoo on Wednesday.
As part of the launch, he and 150 other guests, including former president S R Nathan, chairman of the CapitaLand Hope Foundation, were given a half-hour tour of the panda enclosure.
Fifty children from the Infant Jesus Homes and Children's Centres and the Society for the Physically Disabled also had a tour of the Giant Panda Forest.
On Wednesday, CapitaLand announced that it hoped to raise $350,000 for the President's Challenge 2012. It has raised $235,000 so far.
It will do so through the sale of a set of Kai Kai and Jia Jia reusable bags made from recycled plastic bottles.
CapitaLand will donate $10 for every set of bags sold.
The bags, which cost $20 a set, will go on sale from Nov 16 at 13 shopping malls, including Bugis Junction and Plaza Singapura. They will also be sold at 16 other locations from Nov 19.
Mr Liew Mun Leong, president and chief executive of CapitaLand, said he is confident of "bursting" the $350,000 target.
Last year, the President's Challenge raised over $12.5 million for 39 social service organisations.
Mr Liew said CapitaLand, as presenting sponsor and conservation donor of the Giant Panda Collaborative Programme, will leverage the popularity of the pandas to hold more charity events.
The panda enclosure will be open to the public from Nov 29.
Source: The Straits Times