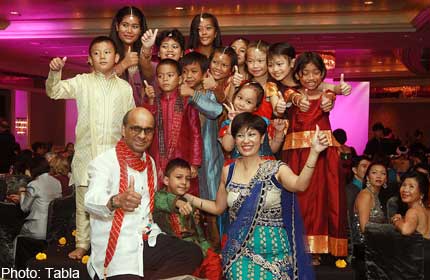 When a Member of Parliament goes up on stage and takes the microphone, one usually expects a speech. But it was a different story at the Mandarin Oriental on Aug 25.
MP for Tanjong Pagar GRC Indranee Rajah – she becomes a Senior Minister of State in the Law and Education Ministries on Nov 1 – surprised the audience by singing a Tamil and a Hindi song at a fund-raising gala dinner organised by the Tanglin-Cairnhill Citizens' Consultative Committee (CCC) and the Singapore Indian Development Association (SINDA).
Ms Rajah, dressed in an embroidered blue lengha, bravely took the mike and sang Ye Samaa, which is from a 1960s Hindi movie, and Who's the Hero, which is from a recent Tamil movie – even though she is not familiar with both these languages. She ended her set with a Cantonese number to roaring applause from the audience which included Deputy Prime Minister and Finance Minister Tharman Shanmugaratnam.
When asked why she did it, Ms Rajah told tabla!: "I chose to sing in Tamil and Hindi even though I don't speak either language because I felt it was important to give something back on my part when asking people for donations and to signal that it's always possible to learn something new no matter how old you are.
"When I first mentioned I would be doing this, many people were concerned and said 'What if you can't do it properly? People will laugh at you'. But if I take that approach, I will never learn anything new for fear of failure. What is important is that one must try. I hope that this will serve as an encouragement to the student beneficiaries."
She added that, having asked a group of donors who regularly support her constituency if they would make a donation if she sang – they readily agreed to her "somewhat hopeful" request for $100,000 – she felt the pressure to deliver.
Calling it "a major stress-inducing exercise", she embarked on a strenuous training routine with well known local singer and composer Mohammed Raffee who taught her how to pronounce the words and get the timing and music breaks right. She had eight one-on-one sessions with Raffee and two more with his band which backed her up when she performed on Aug 25.
"I had to memorise the Hindi and Tamil words, learn the emotion of the songs and put it all together with the rhythm, beat and timing. But the toughest part was getting the pronunciation of the words right," said Ms Rajah.
The event also saw a special dance number performed by children from both benefiting organisations and around S$250,000 was eventually raised for the Tanglin-Cairnhill CCC Community Development and Welfare Fund, which looks after vulnerable families in the same constituency, and as well as SINDA.
The dinner was also followed by a haute couture fashion show featuring some of India's notable designers Kavita Bhartia, Rajesh Pratap Singh, Kiran Uttam Ghosh, Namrata Joshipura and Dina Thacker. Keeping in line with the theme of integration and the blending of cultures, the designers showcased some of their best fusion and contemporary designs.
This article was first published in Tabla.