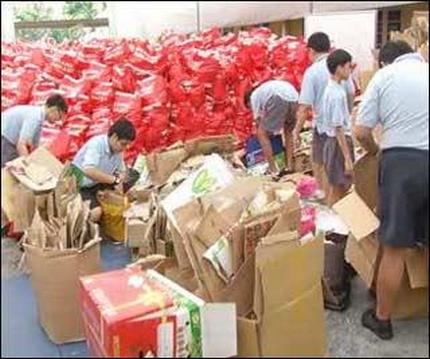 The Boys' Brigade is appealing for more food donations to help spread festive cheer to the needy.
The Share-a-Gift project has not met its target amount of donations.
"We've got 11 more days to go, and we are only at 21 per cent of our food target. We really need Singaporeans and the public to come and deliver more food to us," said Lui Chong Chee, the chairman of the project.
The Boys' Brigade started its first round of deliveries to needy families on Saturday with a flag-off.
Some 380 volunteers and 220 cars gathered at Kallang Coach Bay to deliver 2,000 food hampers to 1,000 homes.
The project aims to deliver food hampers to more than 22,000 people over the course of the month.
With less than two weeks to the end of the project, the Boys' Brigade hopes to attract 70 more vehicles to volunteer and reach out to the less privileged.
The Boys' Brigade is also appealing for halal canned food, soy sauce, rice and cooking oil donations.
The public can donate food items at gift boxes located in various NTUC FairPrice supermarket outlets island-wide till 19th December.
Those keen to help in the delivery exercise can visit the Boys' Brigade Share-a-Gift website at www.bbshare.sg.
Source: CNA