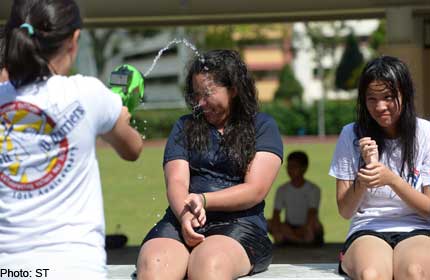 At least $40,000, raised by Yishun JC at annual event to celebrate values, will go to charity.
Students from Yishun Junior College (YJC) raised thousands of dollars for charity on Saturday.
In the process, they also learnt about values – and had fun.
More than 1,400 students set up some 40 snack and game booths for the college's Celebrating Values Day – an annual event to engage community partners and remind students of the school's values of compassion, integrity, responsibility, commitment and loyalty.
Organiser Jerome Wee, 18, in Year 2, said students had to submit proposals for booths based on the school's core values. Planning started more than four months ago.
Primary and secondary schools in the neighbourhood, the Nee Soon East Community Club, the 24th Battalion, Singapore Artillery, and the Glaucoma Society were also involved in the day's activities.
The event raised at least $40,000 for the President's Challenge, the Movement for the Intellectually Disabled of Singapore (Minds) and the Singapore Association of the Visually Handicapped (SAVH).
The SAVH brought its Dining in the Dark experience to the school. Diners ate in a darkened room, served by visually impaired staff and nine students from the school's Interact Club.
About 240 participants paid $10 each to take part in the session.
Education Minister Heng Swee Keat, who was there to celebrate the 10th anniversary of the YJC event, commended the college for setting aside a day to celebrate values.
"Even in the midst of busy school life, you have not lost sight of your responsibility to be concerned citizens in a community where people have different needs," Mr Heng told the students.
He said: "YJC is truly creating a ripple effect in spreading the message to the community that values are to be celebrated, that we will care for people in need, that we will nurture the young.
"These are values that will uplift our society and give all Singaporeans a brighter future."
Mr Heng also launched a book commemorating 10 years of Celebrating Values Day. He signed 10 copies. The college kept one and will give the rest to the first nine donors who pledge at least $500 each to the beneficiaries.
Year 1 student Vivekan Selven, 16, who sold several hundred cups of yogurt with his classmates, said he enjoyed the sense of camaraderie in working together while giving back to the community.
"It was hot and we were tired by evening but it was worth it spending our Saturday knowing our effort would be going towards a good cause," he said.
"This is one way we can give back to the society as youngsters so that the various beneficiaries will gain in some way or another from our small but meaningful sacrifice."
Source: The Sunday Times