Mi Le Old Folks' Association Event for Charity Lunch for 500 Folks
(10.00am – 2.30pm on 31st August 2014 – Sunday).
The venue is at: 4013 Ang Mo Kio Industrial Park 1 #01-450 S(569629) – Kian Seng Restaurant.
Dress Code: Casual (T-shirt preferably White Top with Jeans). Each volunteer will be given a Lanyard to wear for ease of recognition as volunteer.
Contact Person:
Yvonne Tay (HP: 91373007, Email: yvonnetsl@gmail.com) or
Florence Lim (HP: 91888612, Email:flovy777@yahoo.com.sg)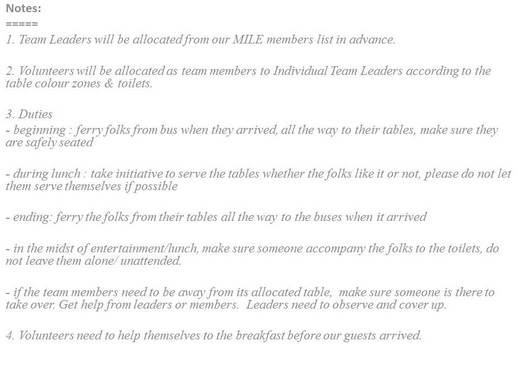 If you are interested, please register here