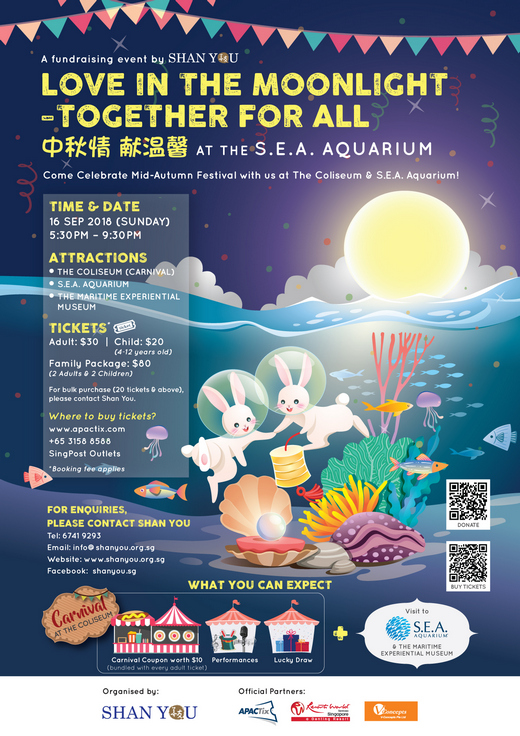 'Love in the Moonlight, Together for All' 2018《中秋情,献温馨》之夜, is a fundraising event by Shan You.
In its 2nd year, the event brings the community together to celebrate one of the important festive in our cultural heritage – the Mid-Autumn Festival.
It also allows Shan You's beneficiaries to feel the love and joy during such festivity.
This event is also held in conjunction with the International Day of Older Persons to celebrate and recognise the contributions of our elderly to society.
The society aims to raise $200,000 through this event so that it is able to further its work on advocating good mental health as well as providing social care.
Date of Event : 16 September 2018
Duty Time: 3 to 10.45pm (dinner break will be given to volunteers)
Location : S.E.A Aquarium
Areas of support required from volunteers:
– Logistics (pre and post event)
– Registration and goodie bag
– Manning the booth at carnival
– Safety guide
– Traffic Marshals
– Information Booth
– Ticketing Booth
– Admin team for the performance programme at carnival
– Admin team for carnival
Including any other duties as assigned by the Working Committee.
All volunteers must be at least 16 years old.
Send in your volunteer application at http://bit.ly/LITM2018
For enquiries, email : jennifer.lee@shanyou.org.sg