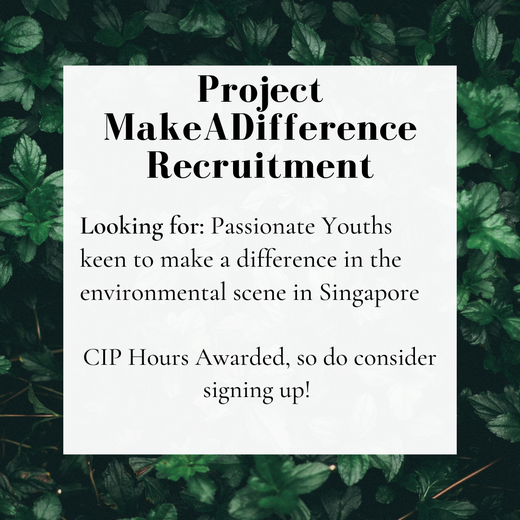 Project MakeADifference is formed by a group of students who are interested in bringing positive change to our environment, specifically by tackling the pertinent issue of food waste generated by various institutions in Singapore.
The group also intends to spread awareness of this issue and promote environmentally friendly practices among Singaporeans through the conduction of gardening and composting workshops as well. It will be composting food waste and distributing the produced compost to bring a love of nature and our food to the wider world.
Recruitment for volunteers are open for two wings within the organisation: HDB Workshops & Publicity/Liaisons.
Members of the HDB Workshops Wing will be working on arranging 2 workshop sessions (Composting & Gardening) for HDB residents in the CCK community. Specific requirements of such workshops will be disseminated amongst members upon signing up.
The Publicity/Liaisons Team, will be handling its social media platforms (e.g. Instagram, Project Website) and will also be sourcing for potential food waste sponsors with whom it can partner with so as to scale efforts further.
CIP Hours are awarded too, so do consider signing up at https://forms.gle/ZttWE9foFZhodseu7