The Red Cross International Bazaar is the Society's signature fundraising event to raise funds for its local humanitarian programmes to help the disabled, elderly, youth and the less fortunate in Singapore.
The bazaar brings together diplomatic missions and local enterprises in a dazzling 100-stall showcase with 100% of sales proceeds to the society's humanitarian services.
Please join us by sponsoring and/or setting up a stall and give the local community the opportunity to experience and appreciate your country's culture.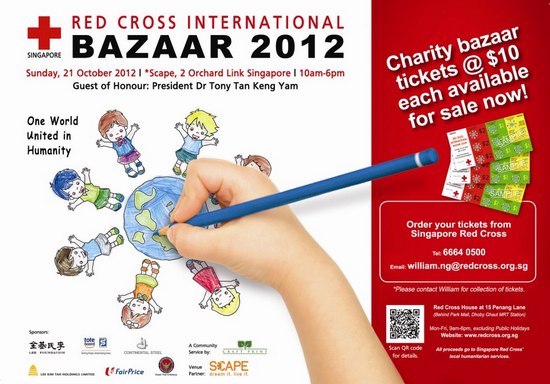 Contact:
Mr William Ng, Fundraising Department
Tel : 6664 0549 or email at william.ng@redcross.org.sg
Find out more here: http://www.redcross.org.sg/press_releases/international-bazaar-2012-experience-the-world-with-singapore-red-cross