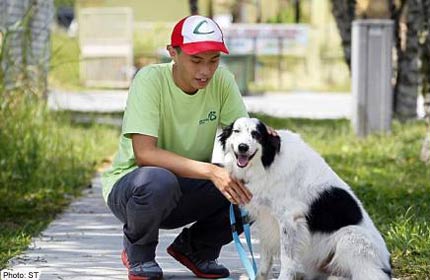 Scrubbing kennels and preparing food for hundreds of animals are daunting tasks. But some animal lovers here visit animal shelters every week to do just that.
They spend hours doing work such as bathing and feeding abandoned dogs and cats in animal shelters.
For some of them, it is a chance to spend time with animals as they cannot keep a pet at home. They might live with family members who are not keen on pets or are not able to take on the full-time commitment of having one.
Take, for instance Max Tan, 18, a national serviceman, who has been volunteering every Sunday with commercial boarding facility and animal shelter Mutts And Mittens since 2011.
His parents worry that he will not be able to handle the responsibility of having a pet. He says: "I have wanted a dog since I was young. One of the reasons I started to volunteer was to find out if I could sustain a relationship with dogs."
In the last two years, he has formed a close bond with 10-year-old border collie, Bandit, who has been at the shelter for about five years.
Mr Tan usually spends his time at the shelter taking about five dogs on 15- to 20-minute walks. The dogs get walked one by one. He then spends several hours in the shelter playing with Bandit.
Besides responsibilities such as dog walking and bathing the animals, volunteers also help with other activities such as selling merchandise at road shows, fund-raising and designing publicity material.
Volunteers make a big difference to animal shelters such as Pets Villa, which is run by animal welfare organisation Animal Lovers League. It has two full-time staff looking after the shelter's 350 dogs and 250 cats.
Ms Christine Bernadette, 24, a teacher who has been helping at the shelter for seven years, says: "Volunteers are the crux of our organisation."
Pets Villa has about 35 regular volunteers. Other animal shelters here such as Action For Singapore Dogs Adoption & Rescue Centre and Madam Wong's Shelter And Friends as well as commercial boarding facility and animal shelter Mutts And Mittens have 20 to 38 regular volunteers.
While such individuals are important to animal welfare organisations, Ms Corinne Fong, 49, executive director of the Society for the Prevention of Cruelty to Animals (SPCA), feels that "it cuts both ways".
The SPCA has more than 30 regular volunteers who help at its shelter in Mount Vernon. Ms Fong says: "Volunteers satisfy an inner desire to help and promote animal welfare."
Mr Tom Sommerville, the volunteer coordinator at Action For Singapore Dogs, who declines to reveal his age, says: "People have a need to be with an animal that loves humans unconditionally."
Student Cai Ai Wei, 22, who started volunteering at Madam Wong's Shelter And Friends in Pasir Ris two years ago, has never thought of having a dog of her own. She is happy to just be around the animals in the shelter every Saturday from 11am to 5pm, walking them, among other things.
She says: "It is very fulfilling to see them happy and wagging their tails. It has become a habit for me to be there every weekend."
Madam Wong's Shelter And Friends considers volunteers like her to be the "building blocks" of the shelter in Pasir Ris which houses 70 dogs and more than 150 cats, but not all volunteers stick around.
Ms Zenith Ang, 25, a marketing executive who volunteers to be part of a group of administrators for the shelter, says: "There are some people who have been with us for more than three years, but some come for a day and we do not see them again.
"It is all 'dirty work' to be honest, but if one is willing to dive in, the satisfaction is immeasurable."
Soft spot for abandoned dogs
Movies about dogs tend to tug at Ms Lydia Chew's heartstrings. The comedy-drama Marley and Me (2008), about a mischievous labrador retriever puppy reduced her to tears.
The 28-year-old, who works in a bank, says: "These animals have no one to rely on. Such movies show that their lives can be so fragile but the love they give can be so unconditional."
She has never had a pet of her own because her parents, a housewife and a businessman, both 49, feel that their family of five cannot handle the responsibility of having one in their four-room HDB flat. Still, the animal lover hopes to adopt a dog when she moves out.
Last year, she started volunteering at an animal shelter Gentle Paws & Friends in Pasir Ris. She says: "I was looking for something meaningful to do and wanted to learn how to take care of dogs."
She spent about two months volunteering there and now helps out at animal shelter Pets Villa in Pasir Ris.She walks the dogs and feeds them. She takes about 10 dogs, up to two at a time, for 20- to 30-minute walks on Saturdays.
But caring for these abandoned animals has its downside. Last week, she arrived at the shelter only to find that a black mongrel, Jen, which she had grown quite attached to, had been adopted.
The enthusiastic dog lover is now bonding with Han, a seven-month-old mongrel with a light brown coat and white paws.
She says: "It is a bittersweet feeling when they get adopted but it is fantastic knowing that they have gone to a loving home."
Devoted to Mummy
From the time he was in kindergarten, Mr Sean Koh, 28, now a public service manager, has wanted a dog. He would play with stray ones in the void deck of the HDB block he lived in.
He had to settle for hamsters and terrapins instead, because his mother, a 56-year-old secretary, is terrified of dogs.
Mr Koh now lives in a four-room condominium with his parents and two sisters who are 23 and 33 years old. His father is a 68-year-old retired teacher.
Now all grown up, the enthusiastic animal lover has found an alternative to owning a pet. He spends Saturday afternoons with close to 100 dogs at the Action For Singapore Dogs Adoption & Rescue Centre in Lim Chu Kang. He started volunteering there last June with his girlfriend, a 28-year-old customer relations adviser.
He is especially fond of a medium-sized black mongrel called Faye Mummy. She did not dare approach him at first but this changed about four months ago during a walk. The dog, which weighs about 40kg, refused to budge halfway through the walk and Mr Koh had to carry her back to her pen.
He says: "She cosied up to me after the incident and runs up to me when I walk by. You have to take the time to get to know each dog's character."
He is usually found at the centre on Saturdays from noon to 3pm, caring for abandoned dogs, walking and bathing them and giving those with thick fur coats a trim.
If he has to work on Saturdays, he helps in other ways such as delivering Action For Singapore Dogs materials to roadshows.
Getting to know almost 100 dogs in the shelter is not an easy feat as some of them are wary of strangers. He has never been bitten by any of the dogs, but all volunteers have to be careful when handling them. He says: "Some dogs take time to open up and need to be reassured that there is nothing to be afraid of.
"We help to keep the dogs sociable. It is important as the centre is open to potential adoptions."
Keen to volunteer?
ANIMAL LOVERS LEAGUE PETS VILLA
What: Help the shelter's two full-time staff prepare meals, bathe the dogs and clean the grounds. The place houses 350 dogs and 250 cats. They also help with paperwork and sponsorship programmes.
Who: 16 years and older
Where: 61 Pasir Ris Farmway 3
When: At least once a week for a minimum of a year
Info: www.animalloversleague.com
SPCA
What:Choose various roles from manning the shelter's office and walking dogs to cleaning cages and feeding. The shelter has more than 80 dogs, 50 cats, 24 rabbits and hamsters and gerbils. New applicants must attend a three-hour-long orientation session.
Who: 17 years and older
Where: 31 Mount Vernon Road
When: At least once every two weeks for a minimum of four months on weekdays or weekends
Info:www.spca.org.sg
ACTION FOR SINGAPORE DOGS
What: Help out with basic chores such as scrubbing kennels and socialising with the dogs. The rescue centre has 96 dogs. Volunteers attend training sessions to introduce them to canine body language and how to interact with the dogs.
Who: 17 years and older
Where: 80 Lim Chu Kang Lane 1
When: Every Saturday from noon to 3pm
Info: www.asdsingapore.com
MADAM WONG'S SHELTER AND FRIENDS
What: Help clean the premises and bathe the dogs and cats. Volunteers can also help with logistics, fundraising activities and managing the animals' medical expenses. There are about 70 dogs and more than 150 cats in the shelter.
Who: 17 years and older
Where: 18 Pasir Ris Farmway 2, Ericsson Pet Farm Block 14 Shelter
When: At least one Saturday every two weeks for four consecutive months
Info: www.facebook.com/Mdmwongsshelterandfriends
MUTTS AND MITTENS
What: Spend time with about 170 dogs and 100 cats in this commercial boarding facility that also houses rescued, abandoned and lost animals. Exercise the dogs with walks and a swim in the in-house pool. Newcomers are required to attend one full-day training session to ensure they can handle animals safely.
Who: 13 years and older
Where: 11 Pasir Ris Farmway 2
When: At least once every two weeks on weekdays or weekends
Info: E-mail judie.chang@humanesocietysingapore.org cherylw@sph.com.sg
Source: The Straits Times