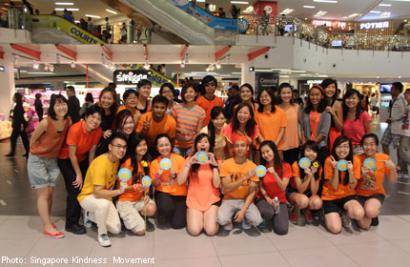 25 people from all walks of life burst into life and danced in unison in a flashmob in Serangoon Nex Mall at 6pm yesterday evening.
The surprised crowd soon found out that the flashmobbers were kindness volunteers, who handed out Kindness postcards to the audience afterwards and encouraged them to pass on an act of kindness and continue their day by looking at the world through the eyes of kindness.
The flashmob was organised by The Singapore Kindness Movement (SKM), as part of the worldwide dance flashmob event initiated by The World Kindness Movement (WKM), and supported by Life Vest Inside.
The WKM aims to empower people to recognise their ability and potential to effect real and positive change in the world through simple yet power acts of kindness. The worldwide flashmob series was first started by the WKM on Nov 18, 2012. The inaugural dance last year took place in 31 locations, spanning across 15 countries with more than 3,500 participants. The montage video of the dance flashmobs around the globe went viral, helping the WKM spread its kindness message.
In 2013, 48 cities from 27 countries, from the US to Australia, Canada, England, to Chile, India, Brazil, together with Singapore and others, waved their flags united in the freezemob and dance flashmob, appealing the world to look beyond ourselves, beyond the boundaries of countries, cultures, races, and religions, and join together to make the world a kinder place. This year a montage video will also be posted to send the kindness message" One Day, One Dance, One Heart! Together we Dance for Kindness!"
Dr William Wan, General Secretary of SKM, merrily said: "I am too old to join the dance, but I share their enthusiasm and I am delighted by how infectious the mood was and how the crowd were positively affected by this short but powerful kindness dance. It also reminds us that we are part of the greater world. We are honoured to be invited by The World Kindness Movement once again for this global event, and look forward to making Singapore a pioneer in the world on the kindness pursuit."
Source: AsiaOne