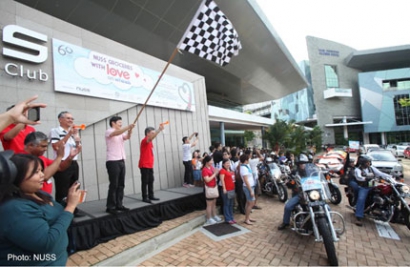 The National University of Singapore Society celebrated its 60th anniversary today by doing its bit for the community in a big way.
About 500 volunteers and their 134 vehicles distributed free food and household items to 3,000 underprivileged households.
Called the 'Groceries with Love on Wheels' (GLOW), the project was the group's biggest community outreach effort. Collaborating with the People's Association PMET Division, the society members visited the homes in five Group Representation Constituencies – Marine Parade, Sembawang, Tampines GRC, Tanjong Pagar and West Coast GRCs.
The guest of honour was Minister for Culture, Community and Youth Lawrence Wong who flagged off the convoy of cars, vans, trucks, buses and motorbikes at NUSS Kent Ridge Guild House this morning. He also helped deliver some groceries to needy households in West Coast GRC.
The GLOW project first broke national records in 2010 for having the largest number of vehicles simultaneously delivering groceries to needy households (a total of 91 vehicles then). It smashed records again in 2011, for grocery distribution to 1,628 households.
Since its inception in 2010, the Glow project has benefitted more than 8,600 Singaporeans from the low-income bracket. The majority of the recipients are the elderly living in one-room flats, said Mr Archie Ong, the project founder.
He said: "As undergraduates many of us received plenty of support from our families and society…this is our time to give back. NUSS Groceries with Love on Wheels is one of many programmes that demonstrate our club's strong sense of community and commitment in helping to build a Singapore that is inclusive, generous and gracious."
The largest-ever delivery convoy and sponsorship this year saw the participation of Anglo-Chinese Junior College, Bukit Panjang Government High School and Singapore Chinese Girls' School; interest groups like the Anything Goes Social Circle (AGSC), Harley Owners Group, Lions and Leo Clubs of Singapore Metropolitan and Supercar Club as well as corporate partners like Atos Information Technology (Singapore) Pte Ltd, Boncafe, City Spring Infrastructure Management Pte Ltd, Holcim (Singapore) Ltd, Nestle Singapore, NTUC FairPrice Foundation and Starbucks Singapore.
This year's delivery efforts took on a new dimension by providing recipients with a "holistic" package of necessities that included toothbrushes, soaps and laundry detergent, and not just food items.
Applauding NUSS for its efforts, Minister Lawrence Wong said: "For us to be an inclusive society, it is critical that those who have benefitted from society do their part to give back and ensure that others enjoy the same opportunities as they did."
Apart from the Glow project GLOW, NUSS also supports several worthy causes such as a bursary fund for disadvantaged undergraduates in NUS.
Source: AsiaOne